Core Members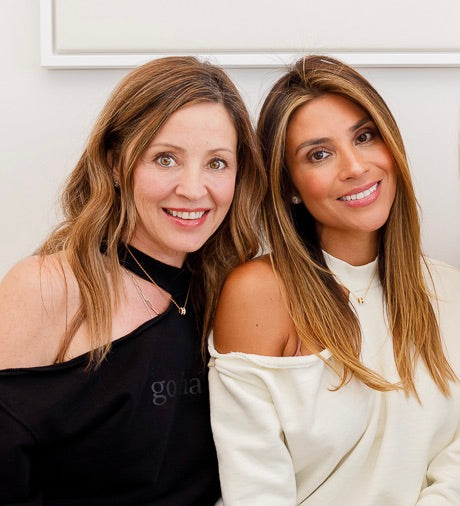 Dru Mouser and Paula Nazar met many years ago at a Pilates studio in Bel Air and became close friends. The studio was home to a close knit group of amazing women (and men!) who made attending classes an important part of their lives. Deciding to partner together and create House of Core (HOC) was organic and natural to them as they all shared the same passion for Pilates and discovered what they wanted in a studio did not exist. 
They each bring separate strengths to HOC with the common thread being the desire and intent to create a space that offers a luxurious experience with the emphasis being on the group collective, creating a lifestyle together that both energizes and inspires everyone, on the daily. 
HOC offers its members a classic-meets-modern Pilates studio that incorporates recent integrations, with the most cutting edge tools and devices, and its Lifestyle Luxe Collection that is custom-designed and made in LA to complement members' active and restorative lifestyles. We are inspired by you - our Collective. HOC offers more than a method, it offers a Lifestyle. 
The core members are so honored and grateful to be on this beautiful journey together with HOC members and for HOC to be a hub, a beehive, a place where members can meet up, connect, sweat, laugh, and experience a village of their own making that embodies the future they wish to create.
director of operations & instructor, house of core
Dru Mouser
I am a Pilates Instructor, a Health Coach, as well as certified in Yin Yoga, and Reiki. A Mother, as well as an artist at heart, my focus is on emphasizing the Mind/Heart/Body connection and healing.
I began my Pilates journey in 2008 during a big life change. What I discovered was not only did Pilates give me strength and flexibility physically, it also increased my mental fortitude, and perhaps most importantly, I found a community of sisterhood that I had never known before.
When the opportunity presented itself to take Teacher Training at Eden's studio, I did not hesitate. Inspired by Eden, Lexi and all the wonderful women there, I slid effortlessly into teaching, discovering a sincere passion for sharing my love, fun and knowledge of Pilates with others. For me, witnessing not only the transformation of my clients' bodies but the integration with wellness, confidence and happiness became my true reward.
For the past few years I have had the pleasure of fine tuning my skills on a group of beloved private clients, continuously creating and innovating. What I have discovered is a level of expertise and knowledge that continues to grow and inspire me. It is my promise to you to always bring fresh and exciting moves coupled with the timeless technique that is the backbone of Pilates.
director of retail and lifestyle, House of Core
Paula Nazar
When I look back at my life, being a devoted mother has not kept me from diving headfirst into many endeavors. Founding Luisant 6, Hello Gorgeous, & leading Operations/Marketing for Hypercel Corp. were stepping stones for taking on my new role at The House.
I met Dru & Wendy at a Pilates Studio in Bel Air, we had an incredible vibe there and built our friendship over the years. My daughter and I also began doing privates with Dru, and we organically began discussing the possibility of building a community together, discussing what I could bring to the table with my own experience and skill set. It did not take long for the three of us to come together in creating a new space where we could collaborate and birth a Studio that was not just Pilates, but an inclusive community and immersive lifestyle.
My commitment is to continuously design, create and source the most innovative and beautiful pieces and lifestyle products that are not only useful and cutting edge, but desirable to all. Curating Eco-friendly and sustainable products for your active and restorative lifestyle is my number one priority.
House Pilates Instructor
Cynthia Conran
Hi! I'm Cynthia and I started on my Pilates journey 20 years ago in London. I was originally looking to relieve severe lower back pain due to an injury I received as an equestrian trainer and coach.
I found Pilates to be the cure along with the entire connection of body, mind, and spirit.
I have been teaching now for 4 years and what makes me adore my profession the most is watching my clients discover and fall in love with the practice also!
House Pilates Instructor
Deb W
Hello my Pilates People! I'm Deborah Watkins and I absolutely love the fitness world. My journey started out as a young child with a lot of energy. My parents immediately threw me into sports. I played soft ball, gymnastics, drill team and this was my foundation and journey in my adulthood. I was a Cross Country Runner for 20 years until it became too much for my body. I immediately jumped into spinning in 1995 and became a spinning Instructor. I was in need of some deep stretching and this is where Pilates entered my life. I took one Private Session and I was hooked. I was Certified through PhysicalMind, Maria Leone in Beverly Hills in 1999. I have been teaching Pilates Non-stop for almost three decades. My integration using form based techniques and modern movement has made me successful. I'm injury specific for Private clients and design a specific workout for your body type. Be prepared in class as this is a form based workout to optimize your greater potential, Your mind and body. I'm known as "The Healer."
I owned my studio, Life Long Pilates Inc for 15 years until covid. My journey continues as this is my calling. It does NOT matter if you are a beginner or advanced. Your mind is your greatest asset and you can do anything.
House Pilates Instructor
Brooke Chenery
My name is Brooke Chenery.  I am originally from Chicago, but I've lived here in Los Angeles for almost 14 years!   I received my certificate to teach Pilates  through the comprehensive program at Equinox in  2014. 
My classes are a mix of classical Pilates as the foundation with a contemporary flow that will leave you feeling energized, longer & leaner after every session.  Aside from Pilates I enjoy traveling, learning new language, and my other career as a Techno DJ.

I can't wait to see you in class !
House Pilates Instructor
Sasha Drawdy
Hi guys, I'm Sasha! I am born and raised right here in Los Angeles and beyond excited to share my love for Pilates with you all. My fitness journey started as a young girl; I played every sport to name! From volleyball, basketball, to even field hockey, I have always valued my athletic side.
Along with playing sports, I enjoy watching them! Being at games has always been a huge part of my life and that is usually what I'm doing when I'm not practicing or teaching Pilates. When I found Pilates, it changed my life and the way that I see the world. Pilates is an art form that we can all work to master, no matter age, gender, or size. This art is welcoming to all!
My goal is to help people of all walks of life dive into the beautiful world of Pilates. I can't wait to see you all and help you become the best versions of yourself! Xo
House Pilates Instructor
Kelsi Taylor
Hi there! I'm Kelsi Taylor. So happy to be a part of HOC! Growing up I never thought I would even enjoy working out, let alone become an instructor. However, 7 years ago I stumbled upon a pilates class and fell IN LOVE. One year later, I got comprehensively certified through Pilates Sports Center and am thriving as an instructor. 
After years of teaching at top LA studios, I feel as though I have really grown in my craft. I continue to strive to learn more while showing people the gift of movement! My classes have a base in traditional pilates yet are spiced up with modern flows that will leave you strong + ready to tackle your day. 
House Pilates Instructor
Jenny Rey
I am just an everyday, "ninja mom."  I was born in the Philippines, and grew up in Spain, Connecticut, and California.  My teaching style is focused on "bio-mechanical" efficiency. 
Efficient movement optimizes everyday movements, to sports performance.  Efficient movement can rehab/prehab injuries, and help to manage or eradicate pain.  Efficient movement starts with a strong core! I have two children, and have had to rehab from a number of sports injuries, as well as navigate daily pain of scoliosis and arthritis. 
These life events have led to the pursuit of learning and service in the wellness field.  I work with clients of all ages and abilities.  
I love helping people live well, move well, and age gracefully!